Electrical Estimator Canada
The most affordable professional electrical estimation services in Canada for commercial, residential, institutional & industrial projects.
We offer Professional Freelance Electrical Estimation Services​
Are you a professional electrical contractor in Canada? If you are one, you would know that bidding on projects and taking up complex projects based on new ideas are challenging tasks. More so if your team is occupied with other tasks, inexperienced, or simply, short of staff. That's where freelance electrical estimation companies like Real Cost Estimating come in.
In a fast-developing and highly competitive construction industry, you need to be quick and efficient to stay on top of the game. However, there are always too many things to focus on in a contracting firm – running your current projects, managing employees, carrying out inspections and purchasing supplies. Electrical estimation is often a task that most contractors indefinitely put off, ultimately resulting in a time and resource crunch at the eleventh hour.
Whatever be the case, you always need competent and experienced electrical estimators to make accurate bids on a project. Whether you're bidding on a domestic or industrial scale project, our business is based on helping you ace the project in record time. Real Cost Estimating is the premier freelance electrical estimation company in Canada.
Real Cost Estimating is a freelance electrical estimation company in Canada. Our specialty is electrical estimating, and we do it best. Our fully capable team takes on the taxing job of estimation, leaving you more time to focus on your business and clients. Thus, we enable your growth and let you establish significant relationships in the industry.
This also makes room on your calendar for more projects. We offer our electrical estimation services to all sectors of the electrical building services industry, starting from fully designed or partly designed projects to a full-on design and build project.
We are a dedicated team of electrical estimators who have been working with electrical contractors for over 15 years. Our freelance electrical estimation company in Canada is focused on preparing accurate and affordable electrical estimates for commercial, residential, institutional and industrial projects including homes, refurbished buildings, schools, banking institutions, hospitals, industrial establishments, among other projects.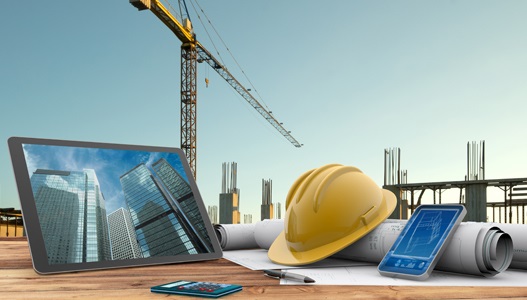 Stop giving up projects due to lack of personnel or time to put together an estimate. Hire a professional freelance electrical estimation company that provides accurate yet affordable results, like Real Cost Estimating.
our mode of operation is very simple
Send the complete set of tender documents to info@realcostestimating.ca along with the tentative date for the estimate.
We will review the documents and let the contractor know the estimation charges.
We send a request for information, RFI, for any missing information or discrepancies.
We also send requests for quotation, RFQ, for all the materials which need pricing from suppliers.
We work on the detailed take off including the fixture counts, device counts, distribution, branch wiring, feeders, fire alarm, communication etc.
A detailed estimate showing material prices and labor for each system will be sent to the contractor for submission and contractor to make payment.
The contractor can easily enter supplier quotes and can revise profit margins or other factors if required before submission to the client.
Electrical Estimating And Take Off Services​
Real Cost Estimating is the leading freelance electrical estimation company in Canada that provides electrical contractors, general contractors, engineers, architects, and end users with reliable electrical construction estimates.
Whether you are looking for a full time electrical estimator or an estimate on an as needed basis, Real cost estimating Inc is here to service your needs. We value our clients and pledge to always maintain our client's confidentiality and confidence! If you have an immediate need, email your plans or send us the link of plans to info@realcostestimating.ca below for a quick quote on the cost to provide a professional electrical estimate.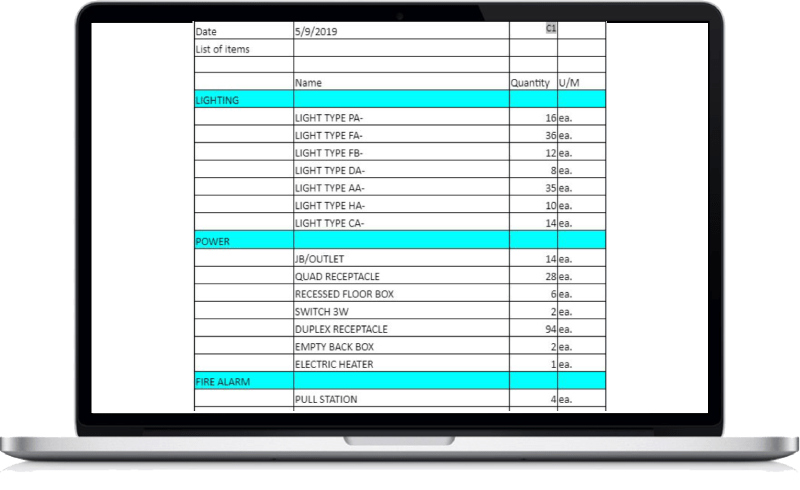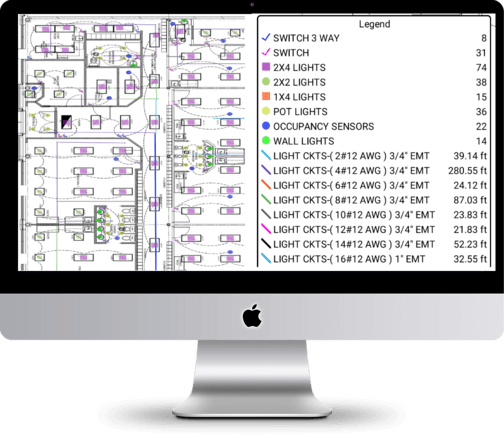 We specialize in preparing detailed electrical estimates for Commercial, residential, institutional and Industrial Projects:
Lighting fixtures and Control

Distribution and Feeders

Branch Wiring

Wiring Device

Fire Alarm

Voice & Data

Security System

Heat Tracing

Mechanical control Wiring

Audio/Visual take offs
Choose Our Expertise and Experience of over 15 Years
Please call 647-677-8399 or email plans to info@realcostestimating.ca
why choose real cost estimating services?

You can Trust us to Deliver
Our freelance electrical estimation services come with the promise of a hassle-free delivery. From the moment we are assigned a tender, our dedicated estimators work on it until the electrical estimation is completed to technical perfection.

Lightning Fast Turnaround Times
From the moment we receive a tender and a deadline, our estimators take swift action to respond within 24 to 48 hours. With our experts, estimates always get delivered accurately, even in tight deadlines.

Flexible Pricing
We offer flexible pricing based on the location and project complexity/duration. Our estimation charges are affordable for small, medium-sized or large electrical contractors.

Outsource Electrical Estimating
Whether you're in need of an experienced eye in estimation to support your team or want a temporary contract with us for a particular project, we have you covered. With our electrical estimators to take up the load, you can focus on bidding on new work and delivering the projects you already have.

Our Estimates are Highly Accurate
We deliver quality results. Whether our staff liaises with your company or provides external support, or if you simply outsource the estimation to us, we are the leading name in terms of quality and professionalism. Our staff have tons of experience in this career and industry, so we pay attention to each detail for your success.

Hassle-free Electrical Estimating Process
We return the estimation in an Excel sheet format with the detailed breakup of labour hours and material in the form of the tender summary or the pricing schedule provided.

Electrical Estimators with Decades of Technical Expertise
As electrical estimating specialists, we are aware of the exact needs of our client, as well as project contingencies. Our experience in providing electrical estimates transcends a decade and a half. You can bank on our freelance electrical estimation company to offer technical advice, support your team with expert know-how, or provide accurate estimation as a short-term service, based on your need. 
when do we work with you?
Real Cost Estimating Inc is a Freelance Electrical Estimating Company located in Toronto, ON. We have more than 15 years experience working for contracting companies in the construction industry.
There are several scenarios in which we can be of service:
If you are trying to free yourself from estimating tasks in order to effectively focus on other areas of your business, we can handle 100% of your estimating load.
If you have a short term, or irregular need for an experienced electrical estimator, but are unable to justify taking on full time staff, then we can help.
If you have an effective estimating team that occasionally has more to do than they can handle, in the short term, we can increase your capabilities on an as – needed basis.
If you have a relatively young estimating team, and feel slightly uncomfortable having them bid a particular job, let us take care of it for you.
ELECTRICAL ESTIMATING SERVICE FAQ'S
How do we get the tender drawings and information to you?
You can email the drawings and information to estimating@realcostestimating.ca or send us a link from which we can download them. We take care of any required printing in-house.
However, if you only have them available in hard copy, you can send them to us by post.
Do we charge for printing plans and drawings?
No, we won't bill you for printing the plans. We will send you the take-off drawings digitally.
Can I just get a take-off instead of a full-fledged estimating service?
We can do any portion of the bid that you require. The cost will be adjusted accordingly.
What's included in the quote?
Our quote includes the following:
Detailed estimate on an Excel spreadsheet.
Detailed quantity list and take-off drawings
Material and labor calculation
Scope letter
RFQs- Separate quantity list and documents to be sent for supplier pricing
RFIs- For any discrepancies, missing information and items that need further clarification
How do we make payments?
You can make payments using E Transfer, Cheque, PayPal or Direct deposits.
How do you estimate the cost of the materials and labour?
First off, we do the take-offs from the information provided. Then, we begin to compile the estimate. Real Cost has a large, accurate and updated database, with details of trade prices for over 750000 individual items. and is updated on a weekly basis, to obtain trade prices. Based on our market knowledge and wholesaler terms, we apply discounts to these trade prices.
The calculations for labour times and rates are obtained mostly from the knowledge and experience of our electrical engineers. We then apply your relevant hourly rate to achieve the labour cost for the estimate.
Will you let us review the estimate?
Definitely! Once the estimate is compiled, we can arrange a review session with you, either in person or over a call. We will let you review the full estimate and drawings, and engage in discussions about the project in general, how we compiled and built it up, and what markup percentages you need. In follow-up to the review, we make revisions to the estimate as per your requirement. Once there is consensus regarding the work, we will mail the final estimate complete with the tender summary and qualifications.
What if you get more than one request for a project?
We do not quote a project for more than one client. If you request a bid for a job that we already have, we will inform you, and your request will remain confidential.
REAL COST ESTIMATING SERVICES
ELECTRICAL ESTIMATION
ELECTRICAL ESTIMATION TRAINING
TRIMBLE ACCUBID TRAINING